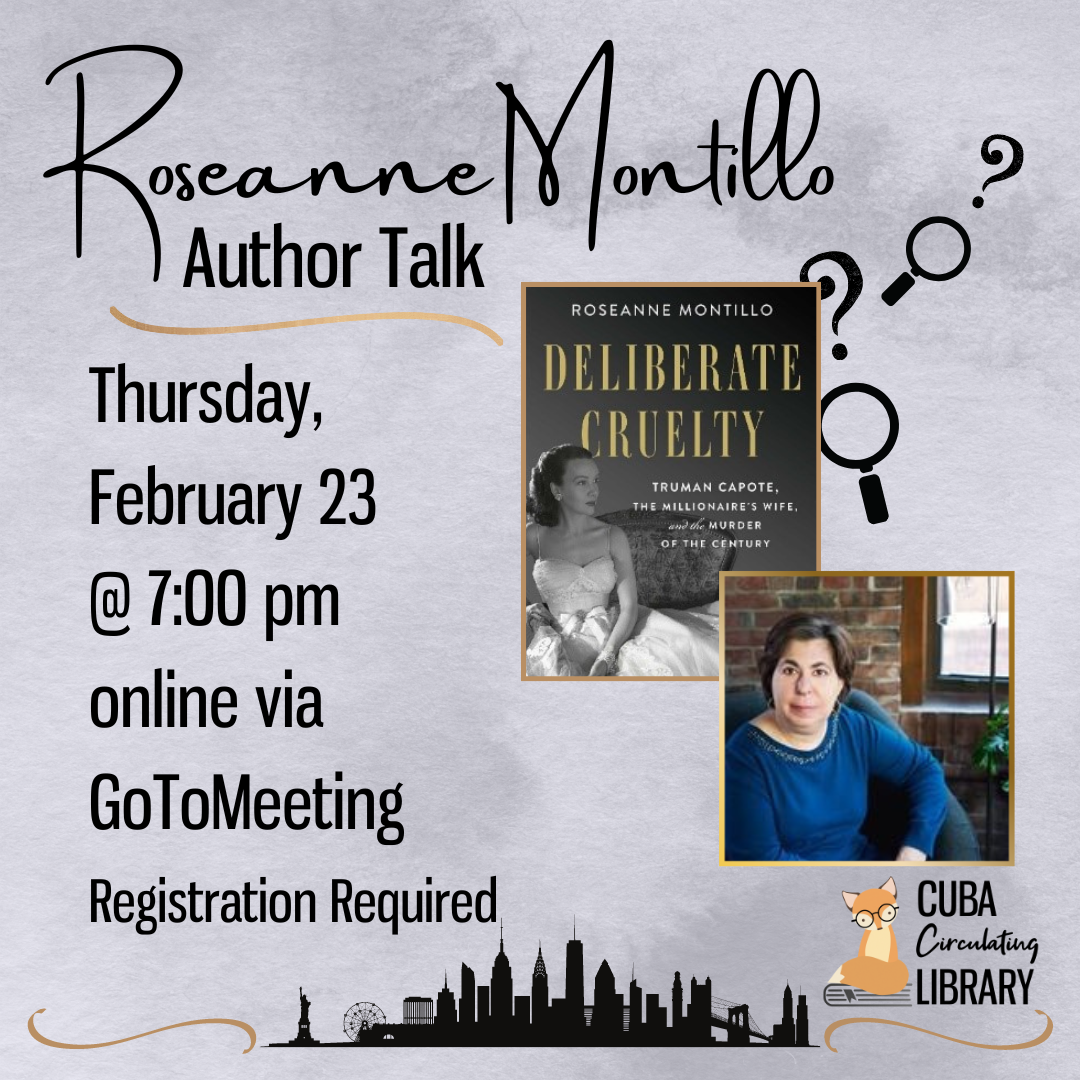 Scintillating, glittery, and deliciously fascinating, Deliberate Cruelty by Roseanne Montillo is a haunting cross between true crime and literary history that is perfect for fans of Furious Hours, Empty Mansions, and Midnight in the Garden of Good and Evil. This is an insightful and cautionary story about what the price of fame and wealth can really be. Deliberate Cruelty is a deeply researched yet utterly page-turning account of Truman Capote and Ann Woodward's darkly intertwined fates. From their childhoods to their deaths, Montillo shares the intimate and surprising details of Ann and Truman's lives and reveals how Billy Woodward's murder sent them both into a downward spiral that would eventually wreck Truman's career and drive Ann to suicide. Deliberate Cruelty is a slice of history that reveals just how dangerous gossip and scandal can be, even for the rich and famous.
Join us on Thursday, February 23 at 7pm for a virtual visit with author Roseanne Montillo via GoToMeeting. The author will discuss her book and her research into the lives of Truman Capote and Ann Woodward, Capote's career, and New York City society as they knew it. Please contact the Cuba Library at (585) 968-1668 or email cuba@stls.org to sign up and receive the link to participate.
Roseanne Montillo is an accomplished research librarian who earned her MFA from Emerson College and has taught creative writing at Emerson and the Tufts Extension School. In addition to Deliberate Cruelty, she has published four previous works of narrative nonfiction to critical acclaim—Fire on the Track, The Wilderness of Ruin, Atomic Women, and The Lady and Her Monsters. She resides in Massachusetts with her family.
A limited number of print copies are available in the library system, and e-book copies of "Deliberate Cruelty" are available for check out via the Libby app. Cuba Library staff will be happy to show you how to use the Libby app to check out a copy.