History of the Library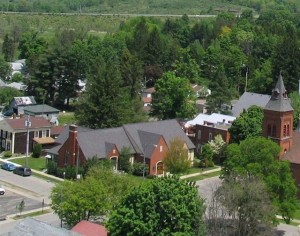 The Cuba Circulating Library was chartered by the New York State Board of Regents in 1872 as an Association library, and founded in 1872 with 100 books.
Through a bequest of $30,000 from Elisabeth Sheldon, the current building was built in 1924.
Another bequest of $267,000 from Elisabeth Hixson Rossiter in 1997 provided impetus for a major renovation and expansion project.
In January of 2000, the Cuba Circulating Library proudly reopened after the completion of a 10,000 square foot addition and total renovation of the original building. New meeting room facilities, a lift for handicap accessibility, new heating and air conditioning systems and a public computer area are among the improvements covered in the $800,000 project.
As a member of the Southern Tier Library System, we can provide materials not owned by the Cuba Library through interlibrary loan.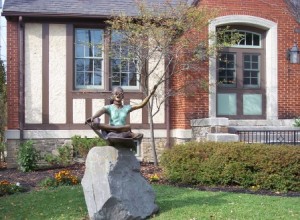 In May 2012 the statue of "Girl Reading", made by Cuba Elementary School students under the guidance of Dave Poulin, was unveiled in its permanent location on the Library front lawn.
On Saturday, July 17, 2021, Cuba Circulating Library sustained heavy damage from flooding of its lower floor caused by severe thunderstorms. While the damage to carpeting, walls and contents was significant, it could have been much worse had Library Director Tina Dalton not just happened to drop by the library that evening. The Cuba Fire Department responded to Dalton's call for assistance and found that the library's sump pump was not working. They got the pump working again and the water started receding in the older west side of the building, which houses a boiler room, the children's story-time room and the book sale room. But water continued to stream in at the base of walls in the library's newer wing, flooding the community room, a small kitchen and restrooms with several inches of water. The library lost many boxes of books that had been donated for the library's used-book sale, as well as brand new children's books that were to be used for prizes in our summer reading program. Carpeting and drywall in both the story-time and community rooms had to be replaced. Recovery costs included tearing out damaged carpeting and dry wall, installing a waterproofing system, installing sump pumps in the community room to service the newer wing, and installing new flooring and walls in the children's room and community room. Thanks to donations received through community kindness and generosity, as well as funds received from the library's insurance company, the library was able to cover the cost of the repairs.  An open house was held on Tuesday, November 16, 2021 to thank the community for their support and offer patrons an opportunity to tour the newly renovated space.