User Guide: Silhouette Cameo 4
What Is It?
Silhouette Cameo: The official website
The Silhouette Cameo is an electronic cutting and drawing machine. Using a connected computer, it uses a small blade to cut a design you created on the computer out of some material sent into the machine. It cuts paper, cardstock, vinyl, and fabric.
The library model is a Silhouette Cameo 4.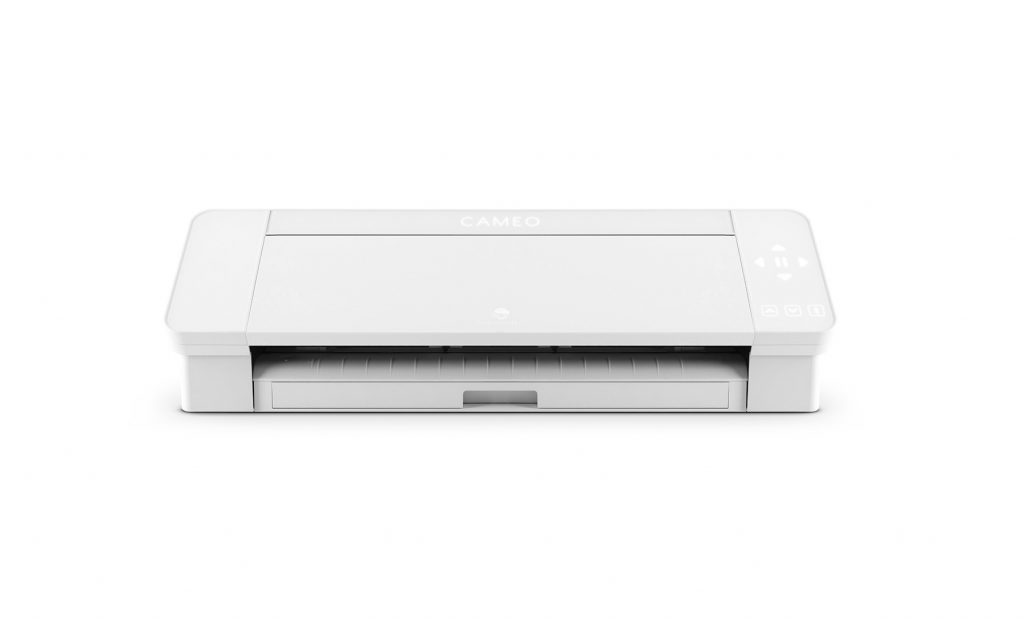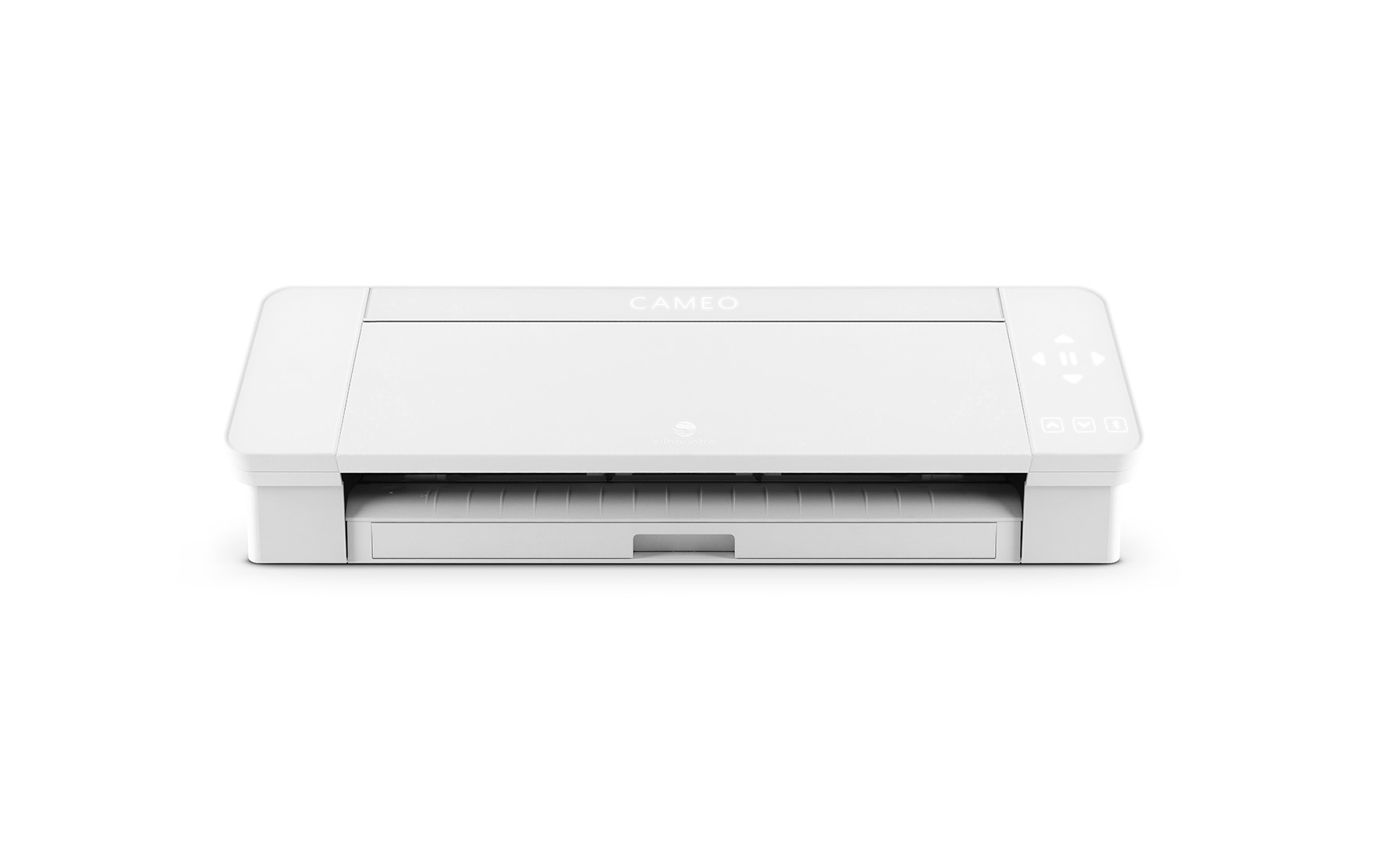 Please Note
Patrons must reserve a time to use machines and equipment in the Makerspace.
Patrons are required to bring their own materials to use in the Makerspace.
The Library is not responsible for failed projects.
We reserve the right to halt, delete, or disallow the creation of items that violate Cuba Circulating Library policies.
What Can I Do?
Watch this video to get some ideas
Check out some project inspiration online
Pinterest is a great resource for projects ideas and tutorials
use the Silhouette to create vinyl decals
cut out shapes to use for bulletin boards, signs, decorations, etc.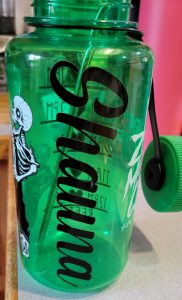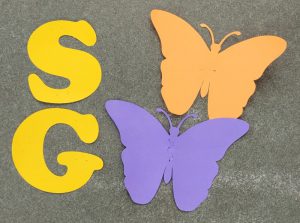 What Does the Library Provide?
Silhouette Cameo 4
Silhouette Auto Blade
Silhouette 12″x12″ cut mat
Silhouette Blade
Silhouette Pen Holder
Weeding & Scraper tools
What Do I Need?
A design prepared in Silhouette Studio

Silhouette Studio is available on the Makerspace laptop
Silhouette Studio will upload a variety of file types: JPEG, PNG, DXF, EPS
Silhouette Studio is not compatible with SVG files.

All materials to create your project (See Below)
Additional transfer tape, cardstock, or butcher paper for applicable projects (See below)
Anywhere from 30 minutes for a small design to several hours for a larger/more detailed design. **Note that time to use the Silhouette may be reserved in up to 2 hour blocks at one time.** The Silhouette is available for use from 9:30 a.m. until 7:30 p.m. Monday thru Thursday, and 9:30 a.m. until 3:00 p.m. on Saturdays.
The library does not sell materials, including copy paper or Silhouette pens, to use with the Silhouette Cameo.
Plan for extra time. There is a learning curve if you are new to using the Silhouette, so leave yourself some time to practice.
Bring extra materials. Mistakes are part of the learning process, so bring extra vinyl, paper, etc. when you are planning to cut a project.
What Materials Can I Use?
Material must fit within the size of the work area:
Width: 12 inches maximum
Length: 10 feet (120 inches) maximum
Common materials include:
20 lb. Copy Paper (white, patterned, printed, etc.) *be aware that as a thin material, it does tend to curl when peeled from the cutting mat.*
Cardstock (adhesive, chalkboard, glitter, etc.)
Vinyl (printable, adhesive, matte, glossy, stencil, etc.)
Heat Transfer (Iron-On) Vinyl
Plastic Shrink Paper
Temporary Tattoo Paper
Other materials that require special blades (Not Available at the Library):
Fabric
Felt
Leather & Faux Leather
Balsa wood
Silhouette Pens and Markers

Must be Silhouette brand to fit in machine
If you wish to use these materials, you will need to provide your own blade specially designed for cutting these materials. Refer to these Silhouette Tool Charts for further information.
Silhouette has a great supply of materials you can purchase for use. Find a current catalog list here, but you can also purchase non-silhouette brand materials elsewhere (see below)
Learn
Library staff has limited basic knowledge on the use of the machine.  Your best bet is to watch demonstration videos:
Silhouette 101 has project tutorials, online classes, and inspiration.
The Silhouette Inc. YouTube Channel has videos and tutorials.
Find project tutorials on Instructables
Where Can I Buy Materials?
Designs
You can buy designs online from the Silhouette Design Store or other online sources like Etsy or Craftsy
Check out the free designs from the Silhouette Design Store.
Silhouette Studio will upload designs from a variety of file types: JPEG, PNG, DXF, EPS

Silhouette Studio will not upload SVG files
Materials
Cuba Circulating Library does not endorse nor profit from these links. These are suggestions of where you can purchase items to use in the Makerspace but are by no means an exhaustive list. 
Tips and Additional Info
Adhesive Vinyl Projects
Adhesive vinyl is great for decorating and customizing everyday items like wood signs, cups, picture frames, laptops, and more! This vinyl comes with a layer of adhesive so it is ready to stick on your item, both in permanent or removable options. Avoid tiny or thin lines in your design. You will need transfer tape to move your design onto the item you are decorating.
Materials you will need to complete your project:
Vinyl

Permanent is recommended for outdoor or washable items
Removable is recommended for laptop or wall décor

Transfer tape
Weeding tools
Heat Transfer Vinyl Projects
Heat transfer (iron-on) vinyl is great for customizing t-shirts, bags, or other fabric items! Unlike regular vinyl, it does not have a layer of adhesive and is meant to adhere to fabric using a heat press. The end result will have a layer of vinyl on top of the fabric. Most brands (Cricut, Siser, Silhouette) of heat transfer (iron-on) vinyl have built-in heat resistant transfer tape. The heating process for each brand can vary, so read carefully.
Materials you will need to complete your project:
Heat Transfer (Iron-On) Vinyl
Heat Resistant Transfer Tape (only if not built-in)
Weeding tools
The library does not provide a heat press or ironing station, so patrons must complete the heat transfer process at home.