Digital Collections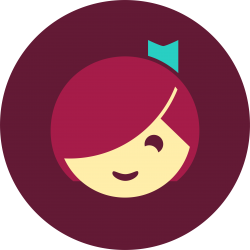 Libby
Borrow ebooks, audiobooks, and magazines to read on your phone or tablet using the Libby app by OverDrive. You can even send and read your borrowed ebooks to your Kindle ereader (U.S. only)! It's free and easy to get started for new users and a streamlined experience for current OverDrive app users.
Aimed at Teens 13+, SYNC 2021 will give away two paired audiobook titles a week, starting April 29th and ending August 4th! Authors presented in this year's collection include Tim Wynne-Jones, Kimberly Drew, and Monica Hesse. Narrators who provide their skills for teen listeners this season include Bahni Turpin, Michael Crouch, and Emily Woo Zeller. Titles are all available worldwide and change every Thursday at midnight Eastern Time during the season. Titles are accessible in Sora, the student reading app from OverDrive. Sora is available in your browser at soraapp.com, or as an app from the Apple App Store or Google Play. Each set is available for one week only, but once you borrow the book, it's on your bookshelf as long as you don't return it. Sign up at https://www.audiobooksync.com/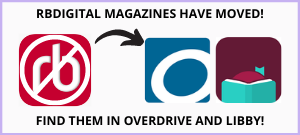 RBdigital
It's time to say goodbye to the RBdigital app. RBdigital (Zinio) magazines will be moved to OverDrive on Friday, February 19th, 2021! The best way to access digital magazines is through OverDrive's Libby app.