Seed Library

Welcome to the World of Saving and Sharing Seed!
We have over 70 varieties of fruits, vegetables, herbs, grasses, and flowers available to be checked out, planted, and harvested. The seeds you borrow from our library are yours to take at no cost. These seeds are donated by organizations or seed savers. We hope you learn much, experience the joys of gardening, and enjoy the fruits of your labor. At harvest time, please take some steps to save seeds for others. We ask that a portion of your seeds from the strongest, tastiest, and most vigorous plants be returned to the Seed Library to keep the library self-sustaining. The more seeds we have in our library, the greater number of people in our community we can serve.
How to "Borrow" Seeds
Fill out the registration sheet. Each time you take seeds, enter the information on the sheet. We won't ask you to give your name, just let us know which type of seeds you took and how many packets. Please only take as many seeds as you will use. To start things off, we have seeds donated by Seed Savers Exchange; their website can be found at www.seedsavers.org.
Our seed library includes:
Fruits & Vegetables
Artichokes
Arugula
Asian Greens
Beans
Beets
Broccoli
Cabbage
Carrots
Corn
Cucumber
Eggplant
Gourds
Kale
Leeks
Lettuce
Melons
Mustard
Okra
Onion
Orach
Peas
Peppers
Pumpkins
Radishes
Salsify
Soybeans
Squash
Swiss Chard
Tomato
Tomatillo
Turnips
Watermelon
Herbs & Grains
Anise
Basil
Cilantro
Oregano
Prairie Clover
Sorghum
Stevia
Summer Savory
Flowers & Ornamental Grasses
Bachelor's Button
Bird & Butterfly Mix
Bunny Tails
Cosmos
Kiss Me Over the Garden Gate
Nasturtium
Prairie Grass
Sunflowers
Tassel Flower
Verbena
Why Save Seeds?
People have been saving seeds for more than 12,000 years. When you grow, save, and share your own seed, you promote seed sovereignty by:
Increasing the genetic diversity of your own seed stock.
Developing seed stock that is more resilient and better adapted to our particular climate and soil.
Perpetuating the knowledge and culture of seed saving.
Providing seed to others in our community.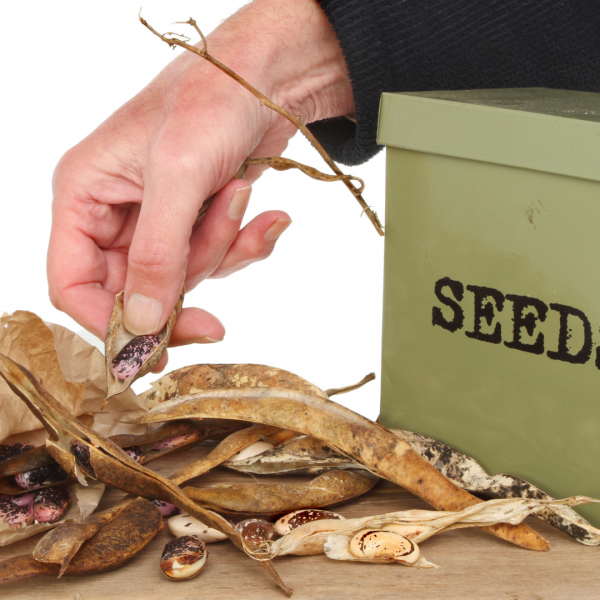 New to Seed Saving?
We ask that beginning seed savers grow and return "easy" seeds, such as lettuce, tomato, bean, or pea plants the first year. "Medium" and "advanced" seeds require special planning to preserve the purity of variety. If you return seeds to the library without taking certain precautions, they will not produce plants that are true to type. Our library has several books on seed saving available for check out.
Contributing Seeds to the Library Collection
It is important that seeds coming back into the collection are grown and saved properly to ensure that the purity of each variety remains intact.
Plant and harvest.
Let some plants go to seed for yourself and the library.
Seeds for the library should be donated in a paper envelope.
Fill out an information form for each donation and staple it to the envelope.
Please donate only non-GMO seeds.
BOOKS:
Clicking on the book title will take you to the record in the online catalog where you can place a hold or learn more about the book.
Additional resources owned by libraries in our system can be found in StarCAT (the online catalog) by searching "Seed Saving" or "Seed Harvesting". Click here to be taken to the search results: Seed Saving or Seed Harvesting
Web Resources for Further Information
Seed Savers Exchange
Seed Savers Exchange is a nonprofit organization dedicated to the preservation of heirloom seeds. They offer a shop with vegetable, herb, and flower seeds, seed saving tools, garden tools, apparel, books, kitchen gifts and more. They share information on topics such as garden planning, seed starting, plant care, pollinators, and seed saving. They also sponsor a seed exchange that users can sign up for and search or browse by category.
Organic Seed Alliance
Organic Seed Alliance is a nonprofit that advances ethical seed solutions to meet food and farming needs in a changing world. Their website offers information on the research and education programs run by their organization; publications, including manuals on how to conduct plant breeding, seed production, and variety trials, record keeping materials, proceedings from their Organic Seed Growers Conference, policy reports, and webinars; and other resources such as a directory of organic seed producers, a seed patent watch, and an online coures on organic seed production.
Sustainable Seed Company
A family owned seed company with over 875 varieties of organic and heirloom seeds. They offer vegetable, herb, flower, and cover crops (alfalfa, barley, rye, wheat, etc), as well as some specialty seeds, grow kits, and seed collections. They also have a newsletter with gardening tips, growing advice and planting recommendations. They also have an advice center and a Youtube channel.