We're Incorporated!
At the June 2016 meeting, Friends of the Cuba Library, Inc. voted to incorporate as a nonprofit in New York State (NYS). On October 11, 2016, NYS recognized Friends of the Cuba Library, Inc. as a nonprofit. Stay tuned for more details.
PURPOSE
Friends of the Cuba Library, Inc (Friends) have been promoting the Cuba Circulating Library (Library) since their formation in November 1988. Since their inception, Friends have actively supported children's programming, including regularly scheduled story hours and classes, special events and guests, and the summer reading programs. Friends have also helped with adult programming by underwriting special programs and guests, such as the Spring Tea, and by purchasing audio-visual materials. When asked, Friends assists with special needs outside of programming. For example, in 2000 Friends purchased the Circulation Desk for the newly renovated Library.

FUNDRAISING
Fundraising has taken many forms throughout the years. From the beginning, and continuing today, used book sales have been a main source of income. The popular Thanksgiving Pie Sale, held from 1988 through 2013, has evolved into a spring bake sale. Raffles, musical programs, and Halloween Haunted House tours, well supported from 1988 through 2000, were replaced by the Wine and Cheese Gala beginning in 2002; the Gala is presently the main fundraiser for Friends.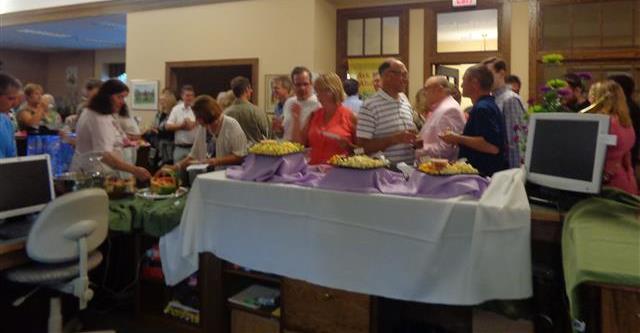 MEETINGS
Friends meet the first Tuesday of each month March through November, and new members are always welcome. Members take on a variety of roles, serving as officers, helping with the two yearly book sales, preparing for the Wine and Cheese Gala, including providing appetizers, helping with publicity, promotion and membership.
OFFICERS
Officers are elected for two-year terms at the Annual Meeting in April. Current officers are: President Twila Barr, Vice President Ann Gross, Recording Secretary Peggy Pearce, Corresponding Secretary Suzanne Krull and Treasurer Pat Ash.
Pictures